Physical Therapy For Lifting Injuries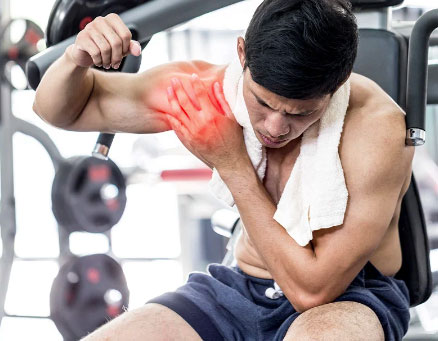 How To Eliminate Lifting-Related Pain Without Medications, Surgery, Or Skipping Your Workouts!
One day, you're on your usual run or doing a set at the gym, and all of a sudden, you feel like a bolt of lightning has hit you. You think, "Man, this hurts a lot, but I'm sure it'll feel better tomorrow."
You go to bed later that night, but the pain is still there when you wake up the next morning. It's been bothering you for a few weeks, and now you can hardly lift anything without feeling pain.
You go to the doctor, who tells you to put ice on it and rest. They also tell you to stop lifting weights because it's "bad for your body." They might even give you some anti-inflammatories and painkillers. Even though you don't want to, you do what they say even though you don't want to.
Eventually, you start to feel a little better, and you feel like you're ready to start training and lifting again. Once you start to get back into it, though, the pain comes back all at once, leaving you frustrated and not sure what to do.
This Is the Vicious Cycle That a Lot of People Get Stuck In.
You're in a lot of pain, so you go to a doctor. The doctor told you to rest it and stop training, and you start feeling better. You may have lost some strength, muscle mass, conditioning, etc., and you haven't done anything to really fix what's going on in your body. As soon as it starts to feel better, you try to start lifting weights again, but the pain comes back, and the cycle starts over. So many of our clients have already been through this before they came to see us.
When our clients come to see us, we make a plan just for them that helps them feel better and get stronger at the same time. Because of this, when their pain goes away, they can go back to their normal training without feeling pain again.
If You're Currently Living With A Lifting Injury, Here's 7 More Reasons Why It Could Be Lasting Longer Than It Should:
1. You thought it would go away by itself, but it didn't.
2. You went to the doctor, who told you to rest and take painkillers. The pills didn't help, and as soon as they wore off, the pain came back.
3. Someone in your family or circle of friends told you that everyone hurts when they lift weights and that you'll just have to deal with it.
4. You've been to other doctors or a physical therapist, but nothing they said or did seemed to help.
5. You tried exercises you found on YouTube, but they didn't help or made your pain worse.
6. You thought it would be a good idea to rest because you were in so much pain, but all that did was make you feel even more stiff and tight.
7. You got a few "massages" to try to get rid of the pain, but all they did was make you feel good and relax. They didn't do anything to fix the pain in the long run.
If any of these have happened to you, we'd love to help. Book a call with our weightlifting injury specialist and find out what can be done to help you. If you've already tried some or all of these things, that's a GOOD THING because it means you know what doesn't work and are closer to finding what does.
If you want some good advice over the phone, click the link below to schedule a call with us. The phone call is free, and you don't have to schedule any appointments with us after it's over. Our goal is to help you decide what to do next in the best way.
If you want to know how the physical therapists at Active Physical Therapy can help you live with less pain, we invite you to start with a free, no-obligation appointment at our clinic:
Note: We offer this Free Discovery Visit to people who are nervous or skeptical about Physical Therapy and don't know what it can do for them or if it's right for them. If that sounds like you, please start with a Free Discovery Visit so we can help you figure out what's wrong and what can be done without you having to spend any money.
Here's Just A Few Of The Things Our Physical Therapy Team Can Do For You:
"How Can Choosing to See A Physical Therapist at Active Physical Therapy Help You Get Rid Of Your Lifting Injury - In The Next Few Days?"
We can help you get back to living your life without pain from lifting weights.
If you want to know how much it costs and what availability we have at our Redding, California, physical therapy clinic, please click the button below and fill out the short form:
What Other
People Just Like You Are Saying

About Active Physical Therapy California...
"Christian is great at what he does. He is very knowledgeable and genuinely cares about your recovery journey. He comes to your house which made things easy for a busy mom like me. He checks in and holds you accountable for your recovery in the most caring and judgement-free way. Best physical therapy experience I've ever had! Highly recommend."
"We are so grateful for Christian! He is one of the kindest people I have ever met, and he is so personable. He is very professional and knows exactly what he is talking about. He has helped loosen up our one year olds leg and helped her progress in her physical movements so much. I would highly recommend to anyone!"